The citizens can apply for observing the elections via free phone line (080 05 05 05), on the Coalition's website (www.podlupom.org), or directly by contacting Coalition's observers and regional offices. The citizens may report any pre-election/election irregularities, which will be forwarded to the relevant authorities for further consideration.
The entire election period, starting from announcement of the elections to verification of the election results, has been monitored by 42 long-term observers of the Coalition and seven regional offices that are active throughout the country, while the Election Day itself will be monitored by 3000 observers that will cover every second polling station in BiH.
Dario Jovanović, Director of the Coalition stated: "On behalf of the Coalition "Pod lupom", which aims to ensure free and fair elections for all citizens of Bosnia and Herzegovina, protect their votes, and restore their confidence in the electoral process, I would like to encourage citizens to apply for the observing of this year's Local Elections."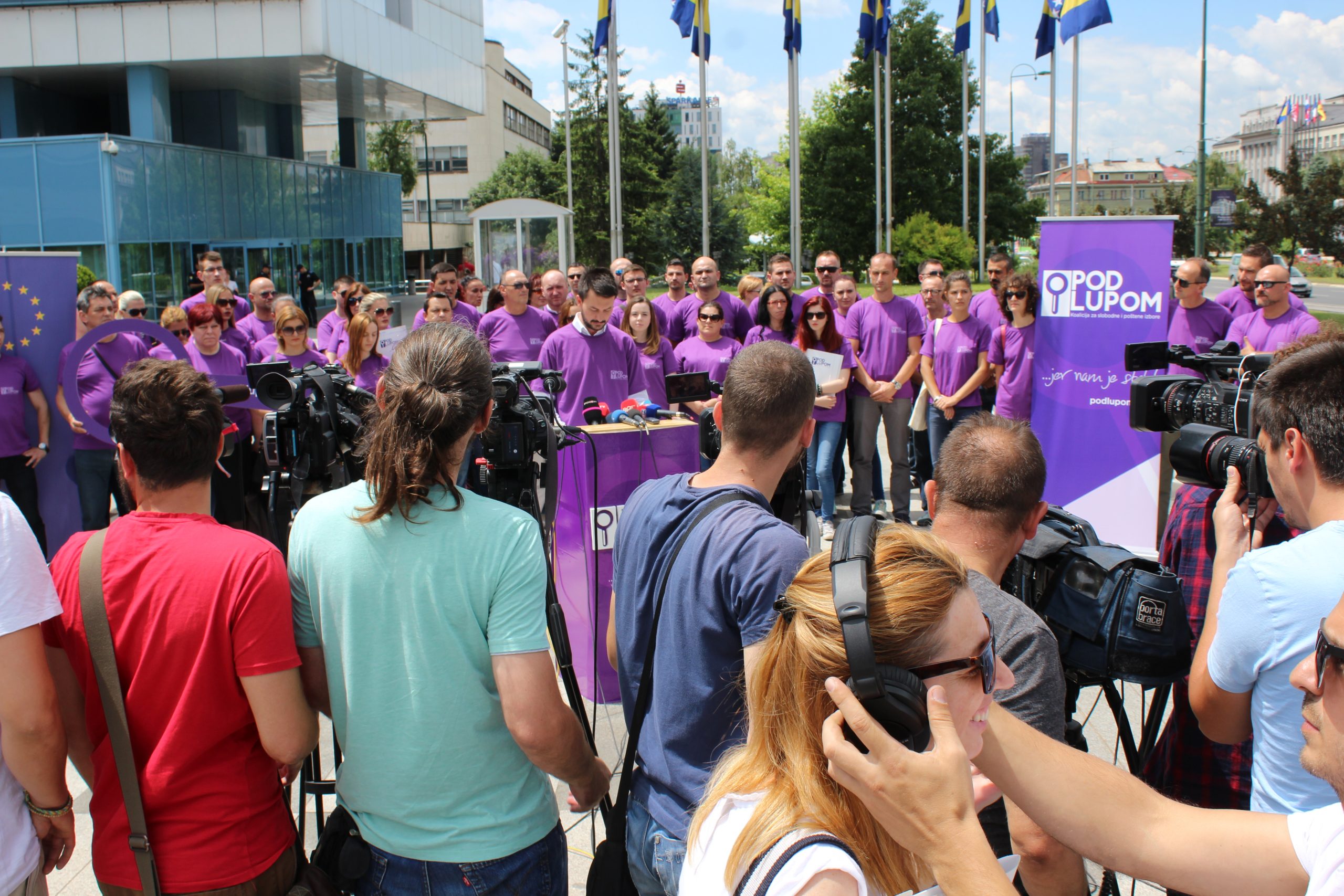 Today's press conference and the activities of the Coalition are part of the EU funded project "Building Accountability and Systems in the Elections – BASE".  The EU has provided EUR 1,5 million for this three-year project with the aim to contribute to the improved quality of election process in Bosnia and Herzegovina in line with the international standards and best practices, facilitating active participation of citizens in the advocacy and election monitoring.
Since the announcement of the elections on 4 May 2016 until now, the Coalition's regional coordinators have managed to establish contact with 139 municipal elections commissions as well as briefed 102 regional representatives of political parties and 63 police directorates about the project.
In addition to observing pre-election, election, and post-election period, the Coalition will also monitor media and election campaigns of political parties.
"We would like to appeal to the relevant institutions to react in case of any irregularities in the election process, as well as to the political subjects to act responsibly and fairly in the pre-election period and during the election campaign." stated the Coalition's Regional representative, Stjepana Ivanuš.
The Coalition Pod lupom has so far monitored the General Elections in 2014 and early local elections in seven municipalities in BiH.
Almir Bičakčić, who was  Coalition's observer of the during the General Elections in 2014 stated that  citizens primarily can contribute to free and fair elections in Bosnia and Herzegovina, and invited them to join this initiative.
The BASE project has started on 15 November 2015 and will continue until 15 November 2018. The project is being implemented by the NGOs constituting the Coalition "Pod lupom", which includes: Centers for Civic Initiatives (CCI), Association of Citizens 'Democracy-Organizing-Progress' Prijedor (DON), Institute for Youth and Community Development "Perpetuum Mobile"  Banja Luka, Center for Civic Cooperation Livno  (CGS), Social Innovation Incubator "Munja" Sarajevo and Forum of Citizens of Twyla (FGT).
For more information, please contact:
Jovana Kljajić, PR Officer of the Coalition "Pod lupom"
Telephone:  033 268 160, 065 252 016
Email: pr@podlupom.org